Overcoming Depression and Anxiety with Cognitive behavior therapy
Day's of the training 
27 November 21.00 – 22.30 (ISTANBUL, GMT +3) : Treatment of Depression with Cognitive Behavioral Therapy: Individualized approaches and therapy process
28 November 21.00 – 22.30 (ISTANBUL, GMT +3) : Working with Anxiety in Therapy with Cognitive Behavioral Therapy: Helping clients conquer their worries
Training Platform : Zoom meeting
A certificate of participation will be given at the end of the training.
The training consists of 2 sessions and will take place on November 27 and 28.
Training Fee:  $200 (Early registration discount now $175.)
There are installment options for credit cards.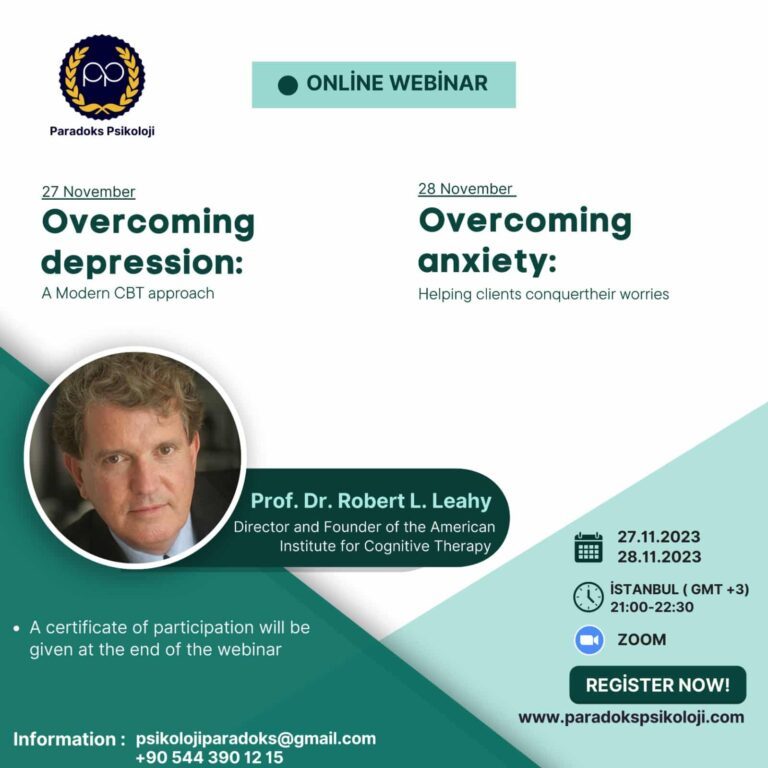 You can register by clicking on the link below and paying for the training.
Prof. Dr. Robert L. Leahy
Robert L. Leahy (B.A., M.S., Ph.D., Yale University), Director,
completed a Postdoctoral Fellowship in the Department of Psychiatry, University of Pennsylvania Medical School under the direction of Dr. Aaron Beck, the founder of cognitive therapy. Dr. Leahy is the Past-President of the Association for Behavioral and Cognitive Therapies, Past-President of the International Association of Cognitive Psychotherapy, Past-President of the Academy of Cognitive Therapy, Director of the American Institute for Cognitive Therapy (NYC), and Clinical Professor of Psychology in Psychiatry at Weill-Cornell University Medical School.
Dr. Leahy is the Honorary Life-time President, New York City Cognitive Behavioral Therapy Association and a Distinguished Founding Fellow, Diplomate, of the Academy of Cognitive Therapy. He has received the Aaron T. Beck award for outstanding contributions in cognitive therapy. In 2023, he was named the Global Ambassador by the Association of Cognitive and Behavioral Therapies and he also received the Outstanding Clinician Award from ABCT.
He was Associate Editor of The Journal of Cognitive Psychotherapy (serving as Editor 1998-2003). Dr. Leahy is now Associate Editor of The International Journal of Cognitive Therapy. He has served on the Scientific Advisory Committee of the National Alliance of the Mentally Ill. Dr. Leahy serves on a number of scientific committees for international conferences on cognitive behavioral therapy and is a frequent keynote speaker and workshop leader at conferences and universities throughout the world.
For a listing of professional presentations click here.
Click on the links below to get more information about Robert L. Leahy.